Long-lasting Fragrance Delight
Are you looking to elevate your home's ambiance effortlessly? The answer lies in the reeds diffuser category. These ingenious devices have taken the world of home fragrances by storm, and for good reason.
Unveil the Elegance of Reed Diffusers
Reeds Diffuser Category: Transform Your Space with Fragrance
In the reeds diffuser category, you'll find a delightful array of options to suit your style and preferences.
But what exactly are these magical devices? At their core, reeds diffusers are designed to disperse captivating scents throughout your home continuously.
They're the perfect blend of artistry and functionality.
Imagine walking into a room enveloped in a soothing aroma that instantly relaxes you.
That's the magic of reeds diffusers. Whether you prefer floral notes, woody scents, or something exotic, there's a diffuser for everyone.
But the real beauty lies in their simplicity. Just place the reeds in a scented oil-filled container, and they'll do the rest.
No need for electricity or constant maintenance.
It's an eco-friendly way to enjoy fragrance.
So why choose the reeds diffuser category? Well, it's about more than just scenting your space.
It's about creating an atmosphere that suits your mood.
Whether you want a cozy, comforting vibe for a rainy day or a fresh, invigorating scent for a sunny morning, reeds diffusers have got you covered.
In summary, the reeds diffuser category is your gateway to a fragrant, stress-free home environment. With a range of scents and designs to choose from, you can effortlessly transform your living space.
Say goodbye to overpowering candles or complex scent systems. Embrace the simplicity and elegance of reeds diffusers.
Now, the choice is yours.
Ready to infuse your home with captivating fragrances from the reeds diffuser category?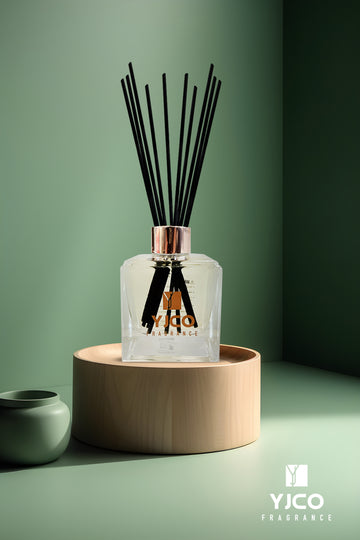 Sort by
Featured

Best selling

Alphabetically, A-Z

Alphabetically, Z-A

Price, low to high

Price, high to low

Date, old to new

Date, new to old
Blog Articles Related Reeds Diffuser
Elevate Your Space with Fragrance Reed diffusers have become a popular choice for those looking...
Read more
Are you looking to enhance the ambiance of your living space with a delightful fragrance?...
Read more
Elevate Your Space with Exquisite Reed Diffuser Australia Collections | YJCO FRAGRANCE
Transform your surroundings into a haven of luxury and serenity with YJCO Fragrance's exquisite diffuser reeds australia collections.
Our carefully curated selection of scents, including the enchanting Honeysuckle, the captivating Santorini, the heavenly Jannah's, the alluring Jamila's, and the refreshing 'Watermelon,' will infuse your space with delightful aromas that linger in the air.
Each reed diffuser is meticulously crafted to release a constant, gentle fragrance that effortlessly enhances any room.
Our premium quality reeds are expertly infused with high-grade essential oils, ensuring a long-lasting and consistent diffusion experience.
Elevate your ambiance with the perfect combination of elegance, style, and captivating scents.
Explore our reed diffuser collections at YJCO Fragrance and let your space embrace an atmosphere of sophistication and tranquility.